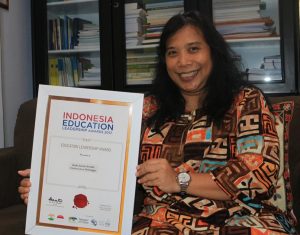 Diah Ariani Arimbi just won international award (Photo by Rio F Rachman)
UNAIR NEWS – Dean of Faculty of Humanity Universitas Airlangga , Diah Ariani Arimbi, Ph.D achieved Indonesia Education Leadership Award 2017 from international non-government organization (NGO), on Friday (3/11). The academician who focuses on English Literature and Gender achieved the award from World CSR Day and World Sustainability. The awarding also supported by other international institutions, includes, Thought Leader, CMO Asia, Stars Group and others.
Diah said there are many criteria for award recipients, for example the contribution in international research and has impact for community. The judges selected person who deserve for achieving award.
This award is not similar to other competition which requires particular terms. In this award, the committee and judges traced whoever deserves to be awarded as Indonesia Education Leadership Award 2017.
The judges are  Dr. Arun Arora (Ex President and CEO, The Economic Times; Chairman, Edvance Pre-schools Pvt. Ltd. & Emeritus Chairman, World HRD Congress), Dr. Harish Mehta (Chairman & MD-Onward Technologies Ltd.; Emeritus Chairman – World HRD Congress & Founder Member–NASSCOM), Professor Indira Parikh (President, Antardisha, India's Iconic HR Leader & Ex-Dean, IIM Ahmedabad) and Nina E. Woodard (President & Chief "N" Sights Officer , Nina E. Woodard & Associates, a division of NDPendence, Inc.).
And also Dr. C. M. Dwivedi (Group Chief Human Resource Officer, Sopariwala Exports Pvt. Ltd.), Dr. Saugata Mitra (Chief People Officer & Group Head HR, Mother Dairy Fruit & Vegetable Pvt. Ltd.), and Dr. R L Bhatia (Founder, World CSR Day and World Sustainability).
"All this time I often became dissertation examiner for international student and editor in many international journal," Dyah said while interviewed in her office
In other hand, Faculty of Humanity strives to establish the international partnership to be a pioneer toward 500 world class university.
On December 8 and 9, Faculty of Humanity will host The 4TH International Conference on Urban Studies: Border and Mobility. Campus or international institutions involved includes, Hamburg University, Curtin University, Sydney University, the University of Illinois, the Asia Research Institute, and so forth. Proceedings of the event will be indexed Scopus.
"We also attempt keeping the student, lecturers and staff exchange. And we have plan to establish double or join degree with university in German," She said. (*)
Source : http://news.unair.ac.id/en/2017/11/09/dean-faculty-humanity-wins-international-award/